If you are looking for IT jobs in healthcare and are already working in or have experience or training in information technology (IT), ASHIM offers modified course tracks to accelerate your success!
The IT Professional FAST TRACK course contains two modules and is designed to be completed within 8 weeks at your own pace. This training option excludes the Information & Computer Science module offered in the full course and covers:
The US Health Care System
Medical Information Systems
This modified curriculum is perfect for the IT professional new to the health care industry. It provides the fundamental knowledge and skills required by technical professionals to support physician adoption of health care IT.
If you think one of our Fast Track training options might better meet your needs, contact us today to learn more.
Course Outline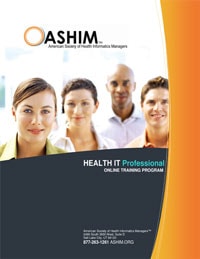 Download our Course Brochure for additional details.
The US Health Care System
Introduction to Medical Terminology & Basic Anatomy - Part 1
Introduction to Medical Terminology & Basic Anatomy - Part 2
Operational Principles of Healthcare
Introduction to Health IT Regulations
Medical Information Systems
Principles of Medical Billing
Concepts in Quality of Care
Heath IT Fundamentals - Part 1
Heath IT Fundamentals - Part 2